Welcome to Marson Pools: Your Backyard Oasis Awaits!
At Marson Pools, we're passionate about creating your dream escape right in your backyard. Our expert team of pool designers and builders will craft a bespoke aquatic haven that perfectly complements your lifestyle. Whether you envision a sleek, modern design or a serene, natural retreat, our pools redefine luxury and elevate your outdoor living experience. We use cutting-edge technologies and eco-friendly practices to ensure that your pool is not only stunning but also sustainable. With a focus on safety, our family-friendly spaces provide peace of mind while your loved ones make memories to cherish. Turn your home into a sanctuary of tranquility and joy with Marson Pools – where your personal oasis awaits.
Marson Pools – Making Your Pool Dreams Come True
Marson Pools is more than just a pool company – we are dreamweavers. Our dedicated professionals work closely with you, from concept to construction, to bring your perfect backyard oasis to life. Whether you desire a resort-style getaway or a secluded sanctuary, our exquisite designs cater to your taste and budget without compromising on quality. Embracing innovation and artistry, we infuse each pool with the latest features and finishes, transforming your property into an envy-inducing masterpiece. Experience the ultimate blend of luxury, health, and recreation in the comfort of your own home with Marson Pools. Making your pool dreams come true is our greatest achievement.
Experience the Marson Pools Difference
Experience
Excellence Services
Pool Installation
Expert pool design and construction tailored to your preferences and property, creating the perfect centerpiece for your outdoor oasis.
Spa Installation
Transform your backyard into a luxurious retreat with custom spa installation and design, offering relaxation and hydrotherapy benefits.
Water Feature Design
Enhance the ambiance of your pool area with captivating water features like fountains, waterfalls, and cascades, adding a touch of serenity to your space.
Stone Waterfalls
Crafted with precision, our stone waterfalls create a mesmerizing focal point, harmonizing the beauty of nature with your pool landscape.
Cement Work
Our skilled cement work services ensure a solid foundation for your pool and other hardscape elements, combining durability with aesthetic appeal.
Pool Decking
Choose from a range of stylish pool decking options, from classic pavers to modern concrete finishes, enhancing the beauty and functionality of your pool area.
Custom Pool Design
Work with our design experts to create a custom pool that perfectly matches your vision, lifestyle, and architectural style.
Pool Lighting
Illuminate your pool area with stunning lighting solutions, adding a captivating glow to your outdoor space for evening enjoyment.
Core & Shell
Revitalize your existing pool with our renovation services, modernizing and upgrading it to meet your current preferences and needs.
Pool Consultation
Benefit from our knowledgeable team's expertise with personalized pool consultations, helping you make informed decisions about your pool project.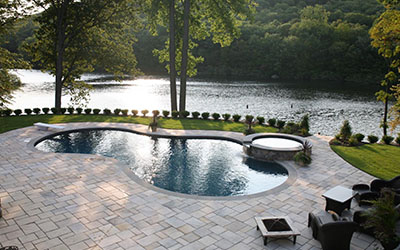 Your dream backyard oasis starts with a stunning pool design that reflects your style and taste. At Marson Pools,...
read more